OUT DOORS: Clément Bagot, sculptures and drawings, Hall of Quinconces Exhibition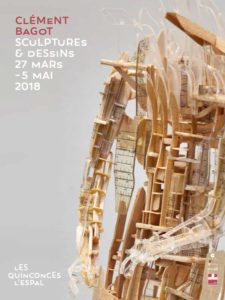 Amazing sculptures and architectures, imaginary landscapes  …
: with the exhibition at L'espal (visible until May 19th), Clément Bagot's works are exhibited in the city center! The artist and his universe, at the limit between abstraction and figuration, invest the Quinconces showroom.
 Around the exhibition:
     Opening on March 27, 2018 at 18:30
Brunch Sun 8 April 11-17h, on the program: free guided tours and lunch among the works (by reservation).
Exhibition from March 27 to May 5, 2018, 
Tuesday to Saturday,  1:30 pm to 7 pm
The Quinconces-L'espal, National Scene of Le Mans
quinconces-espal.com
t +33 (0) 2 43 50 21 50
billetterie@quinconces-espal.com