Mathilde Denize : Faire part : Thursday June 1st – 6:30 pm – Openning – Espace Vallès – Saint Martin d'Hères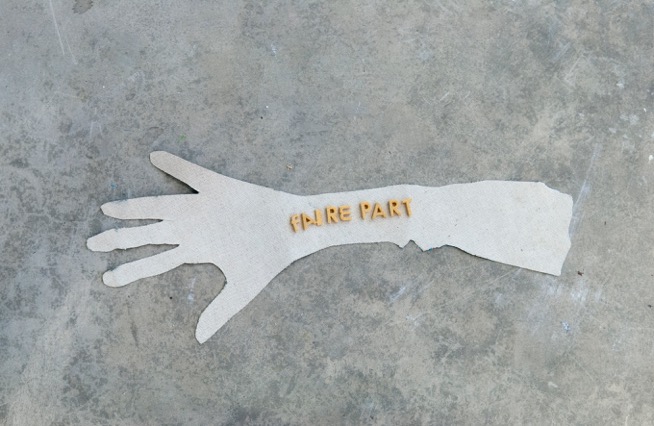 Exhibition from 2 June to 1 July 2017 – Tuesday to Saturday, 3 pm – 7 pm and by appointment
(Espace Vallès) 14 place of the Republic – Saint-Martin-d'Hères
The most correct word is not the one that claims to "always speak the truth". Georges Didi-Huberman – Gestures of Air and Stone (2005)
The concept of announcement is a key to reading the artistic practice of Mathilde Denize. An announcement is an invitation, "a small box to announce a great event." [1] Announcement is also a proposal, a call to sharing, to exchange, to listen and to transmit. The work then functions as an offering.
(…) Mathilde Denize settles in this moment of sharing which, as a movement, a gesture, is accompanied by an inevitable loss. Paintings, sculptures and assemblages search with deep and sensitive attention what was, what is no longer and what resists. Paradoxically, transmission gives rise to a survival of things, knowledge, gestures, forms, and footprints. The works result from this constant oscillation between what disappears and what subsists. The artist thinks from the little bits of existence, to which she gives air and gesture. Small bits of existence that do not affirm anything, determine nothing, no truth, no authority. (…) Far away, from the society of the spectacle, deceptive effects and absurd and authoritarian postures, Mathilde Denize advances, step by step, towards a sincere, shy, empathetic, undisciplined and porous conversation with a timeless image of our Passages, our stories. Fragmented bodies, disembodied, both present and absent, objects dislocated, decontextualized, participate in a dance, a movement. A dance through which the artist seeks the broken and indices of an impossible image of the world.
Julie Crenn
[1] Discussion with the artist, March 23, 2017.
Mathilde Denize lives and works in Paris. She was at the Residence Saint-Ange in Seyssins from February to May 2017. The Residence Saint-Ange will publish a catalog around her stay. Exhibition of the artist in partnership with the Espace Vallès of Saint Martin d'Hères.
More details about the artist:
Presentation of Mathilde Denize
Mathilde Denize, Presenting, by Julie Crenn (full text) coming soon