February to April 2017 : Mathilde Denize in residence
The residence Saint Ange welcomes Mathilde Denize from February to April 2017.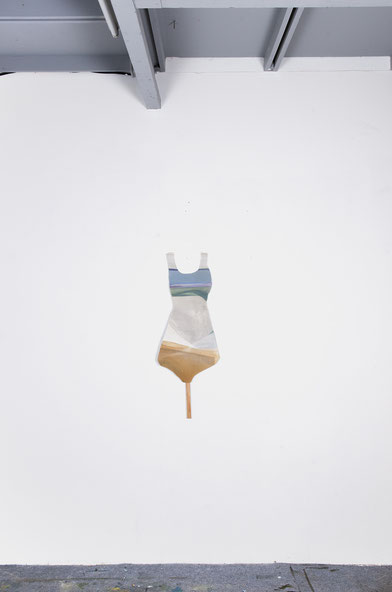 Mathilde Denize conceives her works as thoughts. They come and go, evolve, dissipate, escape or persist. Nothing is imposed, nothing is fixed. His paintings and sculptures are produced intuitively … The relationship between the hand and the material motivates the appearance of works on canvas as well as in space. The sculptures result from free combinations of raw materials that the artist finds and collects. Because they are made according to the scale of his hand, the formats are reduced, intimate. In the street, in nature or in his workshop, the artist collects small objects … Most of them are scraps that have become invisible, undesirable. Chromatically they form a homogeneous whole, the range is tightened: beige, gray (earth and stone), brown (wood), black and white. Despite the decontextualization and the silence, the objects collected relate to two universes: the intimate and the work. The land, wood and stone summon a series of crafts and crafts. Territories where the hand and tool become one. In a hollow, the artist explores the history of sculpture: its origins, its forms and its symbolism. It then assembles materials that once had a precise function, and which were abandoned, forgotten, delivered to the accident and the erosion of time.
The relation to time and silence generates new readings of the work of Mathilde Denize. The apparent impermanence and fragility of the elements underline a sensitive and spiritual dimension. Similar to totems or ex-votos, small sculptures have a sacred character. Arranged on pedestals (massive or discrete) adapted to their dimensions, the works form a population, an environment, a mysterious landscape. By experimenting with the properties and symbolism of her materials, Mathilde Denize constructs a personal mythology in which forsaken and helpless objects are reinvested by totemic energy. Considered individually, the works formed of little things intrigue by their fragility. A print quickly canceled when presented as a group. A dialogue between appearance and essence is engaged. The precariousness is transcended because of forgetting and abandonment, the artist extracts resurgence and resistance. "